Of all the words you could use to describe him, there is one that seems particularly adequate and spontaneous that comes to mind after a phone conversation with him, like a self-evident whisper to your ear : Amine Betach is a fighter. The least you could say about this French man of Moroccan descent and originating from Gaston-Dourdin neighborhood in Saint-Denis
After some jail time for fraud, this young man in his thirties decides to allow himself a second chance and becomes a «big brother» for those, like him, who did not have one. During his incarceration, he founds in 2015 the «Permis de rêver» association (License to dream) to help young people from disadvantaged areas. «It includes also those who don't have the means to go on vacation or to practice a sport. I want a good future for them», he explains.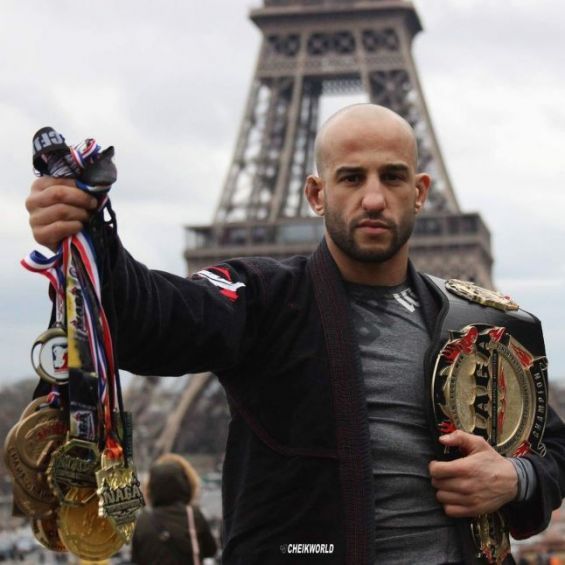 It was indeed boxing that helped 31-years-old Amine Betach to get back on track. «I was always into sports. I have started boxing at age 13. I still have a long way to go and several objectives under way, such as the European jiujitsu championships next year, then the world championships in Abu Dhabi. I would also like to get into a good mixed martial arts (MMA) organization.»
In his emails, Amine Betach insists on his achievements, as if he was demonstrating how promising he was : world champion of pankido, Europe champion of jiujitsu and France champion of grappling (form of wrestling). Next step : an MMA fight at Fall, «if all goes well Insh'Allah».
Amine Betach, at the Westin Hotel in Paris, on the 31st of July 2017 for the 18th anniversary of the Throne Celebrations in honor of King Mohammed VI. /Ph. Amine Betach
«In Morocco, you are forced to hold the line»
He also points out that he does not only help young people. «I also fight for women not to be scared of being out alone. Plenty of women get assaulted and are afraid of saying so. I want to teach them self-defense, be it in high-heels or in hijab. I organize now and then some special sessions for girls to teach them some self-defense techniques.»
Through sports, Amine Betach wants to transmit a message to young people from disadvantaged areas : «Listen to your parents, don't drop out from school and don't listen to rap music singers, they make loads of money behind our backs. Their kids will get to go to the best schools while you will always be where you stand now», he said in June 2015 during a conference at the local youth association in Argenteuil, in Val-d'Oise, under the topic «Jail, from fantasy to reality». He says he has nothing against rappers but that «the villas, the big cars we see in their music videos, these are not reflecting reality».
Away from the opulence and luxury of the great figures of rap, jail is the fantasy and dreams reservoirs of certain lost souls, whose frustrations and hopes are quickly washed off with the first shower. «In France, mentalities are not the same as in Morocco. Here, young people think the jail is no big deal. They think they will get out better off from it. It is wrong : you either get out shattered from it or stronger, but this is only if you do a great deal of work on yourself», the champion explains. «If I had been in my country, I wouldn't have gone to jail. In Morocco, you are forced to hold the line, otherwise you get beat up for it. That's why when I fight, I only represent Morocco. France couldn't help me», he tells bitterly.
Behind the speeches, Amine Betach is an example of double standards in France. On the one hand, political speeches inviting citizens to tolerance ; on the other hand, an insidious racism and a geographically-motivated help. «At school, teachers tell us we have capabilities but send us out on apprenticeships. They don't help us develop our capabilities, that's why so many drift away and drop out. Of course, some of us manage to succeed, but how many ?», asks the young boxer. «In order to win under these conditions, stuck with racism and Islamophobia, you have to be a lion.»
Such legitimate feeling of injustice is pushing more and more youth with similar backgrounds towards other countries in search of more fairness. Amine Betach, for his part, thinks of settling down in Morocco and organize giant open-air open-for-all training sessions in Casablanca, Marrakech and Agadir and broadcasted on TV. «I imagine that in some beautiful areas to make everyone discover Morocco through sports. Insh'Allah.»