Moroccan documentary filmmaker Bouchera Azzouz grew up and studied in France, after her father decided out of the sudden to leave the country. Her mother kept looking for her husband who left without explaining why.
«My mother saw him leaving one morning. She thought he was going to work, it was traumatic», Bouchera told Yabiladi, recalling that her brother was born two days after her father's departure. Miraculously, the mother succeeded in obtaining a passport and she traveled to France where she found her husband.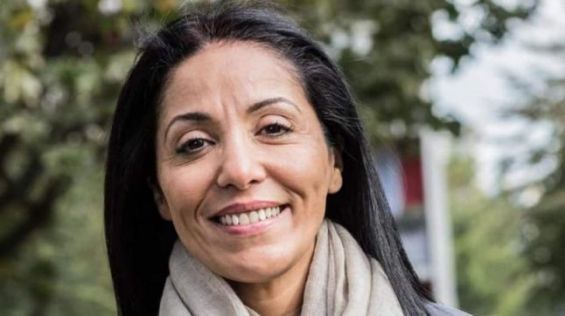 Abandoning life in Morocco to live in France
«My father never told us this story, he felt ashamed and guilty it was a period full of silence, regret and pain», she explained. Bouchera's mother was brave enough to reveal this part of the family's history which «has always poisoned» the parents.
«My mother was a fashion designer and she saw the country through her fashion magazines and books. But when she arrived there she found herself in a miserable shantytown in Saint-Denis, where my father lived. It was the end of an era, she left behind a modest house and a job in Morocco».
While living in Saint-Denis, their house caught fire in 1969 and the parents moved to a house in Bobigny. The mother gave birth to six children while in France while the father worked as a delivery driver until his death.
In Morocco, Bouchera Azzouz's mother made fashionable dresses influenced by Paris. But once in France, she started making traditional dresses for young brides from the Maghreb region. Their living room, hence, became a reception room for all her mother's female clients.
«The strong arm of my mother»
At a very young age, Bouchera became the «assistant» of her mother. «She called me 'the old woman' because I was interested in the world of the women who came to our living room for a dress».
«Growing up, I became the right arm of my mother. My weapon was my pen», says the activist.
As a child, Bouchera wrote short stories, poems, but always hid them so that no one reads them.
«Being interested in literature in a family where science was cherished made me feel uncomfortable. It took me a long time to assume that», she told Yabiladi. But Bouchera Azzouz finally unveiled her talent after having written and directed her first documentary in 2015.
She portrayed her mother, her struggle and the difficult moments the family experienced in the suburbs.
Co-directed by Marion Stalens, Bouchera Azzouz's «Nos mères, nos daronnes» shows the path of women like her mother to improve their situation and the future of their daughters. A year later, she wrote the book «Fille de daronne et fière de l'être», after publishing «Réussir - la rage d'exister des filles des cités».
«When I am asked to introduce myself, I say I am a feminist and an activist. All the other things I do are just ways for me to share my thoughts».
The documentary director wants to reveal the daily struggles of these women who suffer from inequality. «Girls from my generation, the first generation born in France, have been through a lot», she stressed. «We were exposed to racism», she added.
«We ended up having a hybrid identity, trying to preserve our history and traditions all while trying to fit in the French society».
The writer and documentary maker believes that the real struggle of Moroccan women in France is «fighting for social justice, and the right of having equal opportunities». All these things make of Bouchera Azzouz a passionate woman and influence her writings and work.
Thinking of the future
A field woman who has been closely involved with local feminist associations, Bouchera Azzouz is now president and founder of the association Les Ateliers du Féminisme Populaire. Through this commitment, she defends the cause of her mother and the women of her neighborhood.
Focused on social actions, Les Ateliers du Féminisme Populaire is a structure that allows women to acquire the tools of their emancipation. This work is done through a plan developed by the association, called PAAF (support plan for women's autonomy). This gives suburban women and girls the ability to be independent and autonomous, through education, the opportunity to pursue their studies and find support to start their own projects.
Behind her camera, Bouchera Azzouz does not stay far from this fight. She is currently working on her first feature film, where she explores the mother-daughter relationship, the unspoken, the weight of what we say, and social and cultural pressure.
The activist is also finalizing her next book. «It will be talking this very special story of the first postcolonial generation that came to France and how their presence refounded the Republic», she concluded.