Tangier has been for centuries a host city for foreigners from all over Europe. Controlled by several countries in the past and enjoying the title of an international zone for more than three decades, it became a Holy Grail destination for secret agents.
Nicknamed the «African Gibraltar» and located near the Mediterranean, Tangier earned the reputation of an espionage haven. Spies roamed the city's narrow streets, and sat in its cafés without attracting too much attention.
Their secret activities in Tangier, however, inspired writers, movie makers and took over spy fiction books. The first espionage operations reported in Morocco's northern city date back to the 17th century and most precisely when Tangier was seized by England.
Espionage : England vs. Spain
«The English occupation of Tangier was to have a troubled history, but for a brief span in 1663-4 it provides an interesting glimpse into certain aspects of the diplomatic underworld of espionage», wrote Alan Marshall in his book «Intelligence and Espionage in the Reign of Charles II, 1660-1685», (Cambridge University Press, 2003).
Fighting over Tangier, England and Spain had to use all ways to keep a hand on the city that served their interests, starting from trade. This was explained by Marshall who insisted that «espionage was to come to the fore in Tangier because of the increasingly troubled relationship between England and Spain».
Indeed, the Spanish spread rumors, suggesting that ships coming from Tangier, occupied by England at the time, carried plague, forcing Charles II's vessels to take the risky trip from Morocco to the English shores.
World War II
However, the biggest espionage operations took place in Tangier during the 19th and 20th century and were mainly related to World War II. When the USA eyed Morocco as a landing for its Torch Operation, espionage came in handy. «There was cable traffic to the U.S. through Tangier but not between consulates, and all messages had to be coded and decoded», revealed Hal Vaughan in his book «FDR's 12 Apostles : The Spies Who Paved the Way for the Invasion of North Africa» (Lyons Press, 2006).
Operation Torch in North Africa./Ph. DR
Preparing for the North African landing, the city that hosted the American Legation, played a primordial role to secure the secrecy of the operation and deceive the Vichy regime.
Fiction books
Tangier was indeed, the perfect spot for all those who sought secrecy and also writers who desired inspiration. For Vaughan, «the town might have inspired a chapter from a John Buchan (Scottish novelist and historian) spy novel, with its Walled Arab quarter and narrow streets where veiled women, camels, smugglers, and spies plied with trade».
The reason why Tangier was a spy haven was logically justified by Hal Vaughan. He wrote that «in Tangier, anyone could get a hold of foreign currency without identification». He even compared the city to Europe's Lisbon, adding that it was full of people who «ought to be in jail», and because the Spanish took over policing after the war erupted «mayhem was rare».
The nature of the city manifested in the writings of American expatriates, including Paul Bowls and members of the Beat Generation who stayed in Tangier, seeking inspiration. Studying their works in his book, «Writing Tangier in the Postcolonial Transition: Space and Power in Expatriate and North African Literature», (Ashgate Publishing, 2011), Michael K. Walonen indicated that those writings portrayed some of «the behind-the-scenes United States involvement in the Maghreb of espionage and covert manipulations of the political scene».
He reported that «shortly after the end of World War II (the United States) built one of its main Voice of American broadcast centers just south of Tangier» and the «Soviet Union responded by planning t build a bank in Tangier as a means of funneling money to Moroccan nationalists».
Walonen cited one of Paul Bowls letters, sent to American writer William Wright, in which he hints to the fact that «civil unrest against Westerners in Tangier both before and just after Moroccan independence was instigated by Russian agents».
Our favorite spy movies
Tangier' spies found their way to cinema through a series of movies that portrayed the city as a necessary stop for good spy movie plots. «Espionage in Tangier» or «Marc Mato, agente S. 077» was one of the most famous Tangier spy movies. 1965 Spanish-Italian spy film portrayed the city as a North African Lisbone that served as a «Mecca for secret agents».
My «Favorite Spy», is another spy film that spotlighted the city's darkest side, but in a comic way. The 1951 American movie is about a «US intelligence agents recruit burlesque comic Peanuts White to pose as international spy Eric Augustine, whom he resembles, to acquire a million-dollar microfilm in Tangier».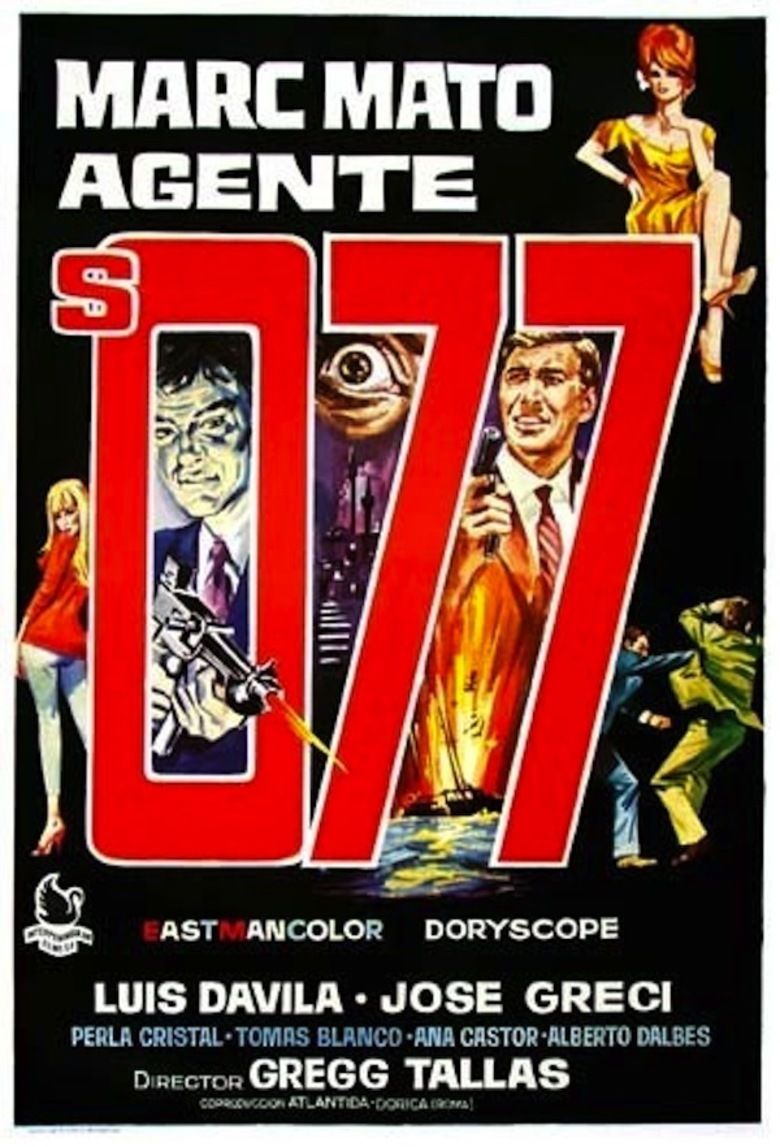 Espionage in Tangier, an Italian-Spanish spy movie./Ph. DR
Most recently, American actor and director Matt Damon in his spy thriller action movie «The Bourne Ultimatum» came to reinforce the cliché about Tangier. The 2007 film is the third in the Jason Bourne film series which, of course, is about a secret agent and CIA assassin who lost memory of his past life after a top secret mission.
In his attempt to find more information about his past, the agent lands in Tangier.