In the seventeenth century, religious conversion was a phenomenon that spread in both Christian and Muslim-controlled lands. While Christian captives in Morocco were converting to Islam, the same happened to Moroccans captured by Christian fleets. The trend did not exclude nobles and even princes.
Mohamed El Attaz, known in the Western world as Balthazar Mendez de Loyola, was one of these captives who chose to convert even after gaining their freedom.
Son of the King of Fez of the Saadi dynasty, Mohamed El Attaz was born in 1631 in the middle of political turmoil. He was the son of the second wife of the Moroccan ruler, according to history accounts.
At a very early age, the young prince showed great interest in theology. In an article entitled «A Muslim Turned Jesuit: Baldassarre Loyola Mandes (1631-1667)» (Journal of Early Modern History, 2013), religious historian Emanuele Colombo refers to young El Attaz as «an expert in the Quran».
By the age of fourteen, the prince was married to a woman called Fatima, with whom he had three children. And by twenty, he «set out to make the pilgrimage to Mecca (…) against his parents' will», Colombo wrote.
El Attaz' trip to Mecca did not go as expected but was, instead, a turning point in his life. While on his way to the Arabian Peninsula, the Moroccan prince was captured by the Knights of St. John. A history source indicates that he was captured by the Christian fleet of Balthazar Mandols near the Cap Bon, a peninsula in far northeastern Tunisia, also known as Ras at-Taib.
Conversion
Mohamed El Attaz was kept captive in Malta for five years and, in 1656, his ransom was finally paid and he was free to return to Morocco. However, «the same day of his planned departure, Mohamed had a vision that resulted in his decision to convert to Christianity», the historian recalled.
When talking about his conversion, El Attaz referred to it as a random decision that came to him after a sleepless night following the payment of his ransom. «I had a vision : I was in the middle of the sea; half of the sea was black, the other half was aflame; I was treading water in the black half, but I was pulled to the flames. When I was almost in the fire, I began to cry loudly : «Help me, help me Lord», he wrote.
«I saw a marvelous thing : a mountain in that immense sea, and on it a man dressed in white (…) he pulled me out, and I found myself out of danger. I asked him, 'for the love of God, who are you who freed me from this sea?' and he answered: 'I am the holy Baptism'», he said.
Indeed, the Muslim prince decided to stay in Malta and convert to Roman Catholicism. On the same year of his conversion, he was baptized under the name Balthazar of Loyola, honoring Ignatius of Loyola, a venerated Catholic saint and Spanish Basque priest.
«He remained in Malta, where the Knights of St. John treated him with great honor», the same source added. «He chose for himself the name of the captain of the ship that had taken him prisoner five years earlier and added the last name 'Loyola' in honor of Saint Ignatius, on whose feast day he was baptized», Colombo wrote.
After his conversion, the former Muslim decided to go to Italy, where he was known as Baldassarre de Loyola. After spending three years in Sicily, the convert decided to join the Society of Jesus, a religious order of the Catholic Church headquartered in Rome. Ignatius of Loyola and six companions with the approval of Pope Paul III in 1540 founded said order.
Joining the Society of Jesus
This conversion decision made of Mohamed El Attaz the first and only Muslim ruler to become a Jesuit, a member of the Christian order. Also, according to the same article, «he is one of the few known exceptions to the decree of the fifth General Congregation (1593) that prevented people of Jewish and Muslim ancestry from joining the Society of Jesus».
The Saadi prince's ambitions did not stop there. By 1661, he was accepted in the Roman novitiate of Sant'Andrea al Quirinale, a Roman Catholic titular church built for the Jesuit seminary. Two years later, the former Muslim was ordained a priest.
«For about three years (1664-1667), he devoted himself to the conversion of Muslim slaves in Genoa and Naples. While traveling around Italy, Baldassarre was in touch with prominent religious and political authorities, including the cardinals Antonio Barberini and the future pope Benedetto Odescalchi, the Viceroy of Naples, and members of the Savoia, Medici, andDoria families».
As a Jesuit, Balthazar dreamed of going on a mission outside Europe and asked to be sent to a Muslim country. His wish was answered by 1663, as he was named a missionary for the East Indies, an archaic term referring to Maritime Southeast Asia and parts of East Asia.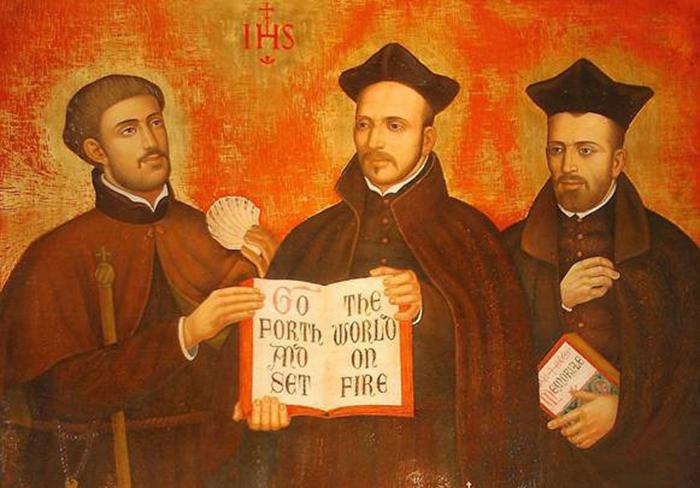 Colombo explains that «Baldassarre was assigned to the important Jesuit mission in the realm of the Grand Mogul in India». His journey consisted of traveling to Lisbon, Portugal, and then sailing for his mission.
«Since he had achieved a certain level of fame, during the tiring trip throughout Italy, France, and Spain, he was continuously asked to preach and to meet local authorities. When he reached Spain he was exhausted and became ill», he recalled.
The former prince died in 1667 in Madrid before starting his long-awaited mission. His funeral was celebrated and attended by «a crowd of noble people, members of religious orders, and local ecclesiastic authorities».
«A week later, in the same church, at the request of members of the Spanish Court, the royal preacher Pedro Francisco Esquex, S.J. delivered an even grander funeral sermon that was immediately published and widely circulated».
The life, conversion and religious enthusiasm of Balthazar was very unique and was at the heart of several publications in Europe. While the Knights of St. John were proud to have acquired such a noble convert and treated him with great honors, the other Muslim captives thought he had gone insane.