In February, laboratory technologist, scientist and researcher Asma Boujtat was elected Ambassador of Sciences 2021 by the Women Award in Technology and Science (WATS) campaign, from the Institute for the encouragement of scientific research and innovation of the Brussels-Capital Region (Innoviris). For the Belgian-Moroccan, this is a consecration which will allow her to work more closely in educational and fun workshops, intended mainly for girls to demystify the inaccessibility of this area.
Indeed, this distinction aims to improve the representation of women in scientific fields. For this sake, Asma Boujtat's priority this year will be to change the preconceived ideas about scientific fields, which many schoolgirls see as difficult to access, too specialized, too rigorous, requiring long studies and long-term work.
This is precisely a cliché widely conveyed, according to Asma, notably by the fact that scientific profiles are often represented under a male figure. «We see this even in the cinema and in many films, where the role of the scientist is often that of a man, rather old, wearing glasses and very serious», said the researcher.
A taste for science thanks to her teacher
During her childhood, Asma Boujtat also had herself this perception of the scientific field, and she did not imagine herself in such a career. However, the young girl started developing an interest for science thanks to one of her high school biology teachers. Born in Brussels to a working-class family from Oujda that lived in in the districts of Schaerbeek then Etterbeek, these classes marked her so much that they made her decide to take the plunge.
Following her newfound passion, Asma Boujtat then joined the Francisco Ferrer High School. Upon graduating, she quickly got to work in a pathological anatomy laboratory. She also, and above all, relied on her strong determination. «I do not accept that external elements intervene in my life and put barriers, if I do not decide myself to impose mine», the researcher pointed out.
«I have been working for almost 15 years and have seen a positive development. When I started my career, I felt a bit like the 'ugly duckling'», Asma Boujtat told Yabiladi. According to her, «we see the landscape changing over the years, but it is never enough; so we must always continue to motivate girls».
A spirit of success to pass on to little girls
For 12 years, Asma Boujtat has been a laboratory technologist at the Institut de Duve at the Catholic University of Louvain and directed by Jean-François Collet. «When we are young, we do not necessarily have enough confidence in ourselves and we do not imagine having the capacity to follow scientific studies which seem difficult. But I managed to break this barrier and demystify a field, which is ultimately not-so-difficult if you put your passion into it and work hard enough», the technologist underlined.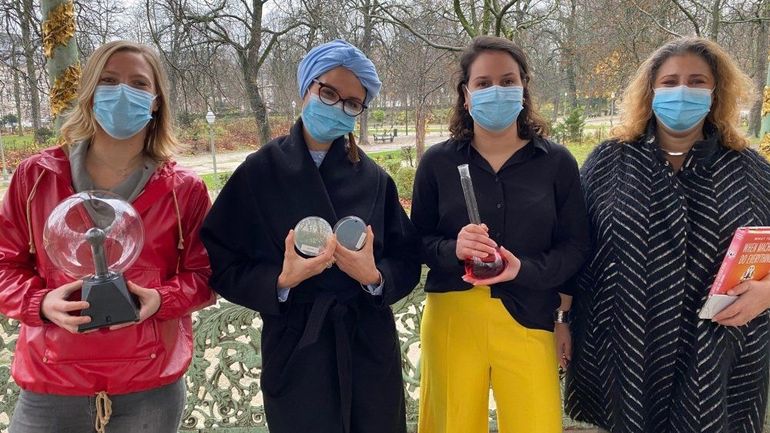 «If you don't like what you're doing, it's hard to keep patience.When a child sees, for example, a researcher who has a post-doctorate, he does not necessarily manage to project himself into the future.He is sent back to his own fears and he imagines that these are atypical people who evolve in the sciences.However, I pursued higher education, I work in a research laboratory, I add my contribution to the field».
For her awareness-raising project as science ambassador, Asma Boujtat thus hopes to «meet these children and I plan to target schools in neighborhoods suffering from discrimination, where there is a higher drop-out rate in order to re-motivate these children by showing them that they can have a better future». «My six-year-old daughter has already come to see me at the laboratory and she was very curious», she proudly said, adding that she also does this work of transmission with her two children, even if they may not necessarily choose a scientific career.
«Of course, as long as our children are happy and choose their own path, we can only be proud as parents.But as such, we also owe it to ourselves to show them that all horizons are open to them and that they can choose their own vocation, whatever that may be».
«I grew up in a working-class family, but I was indeed lucky to be surrounded by parents who encouraged me a lot to follow the studies I chose, to persevere and achieve my young girl ambitions», she concluded.