Nanah Dae is a Moroccan-Dutch female rapper who deputed her career in the Netherlands. Influenced by her childhood, her parents' divorce and cultural background, Hanan was able to voice that through music and dance. The 24-year-old rapper was born in the Netherlands to Moroccan parents from Ouerzazate, most precisely Kalaat M'Gouna.
Starting as a dancer, Hanane did not know that she would find herself a new aspiration. When she was only nine, she was put by her parents to learn dancing and at the age of twelve, Hanane who is known now as Nanah Dae, was dancing ballet. Once introduced to hip hop music, the young girl changed her mind about what she wants to do in her life. «Ballet was too feminine for me, as I was kind of a tom boy growing up, so I kept on going with the hip hop music because I loved the beats», Hanan told Yabiladi on Friday before performing at the 17th edition of L'Boulbard Festival.
The MC school
After spending years at the dancing school, Hanan managed to find herself in music, discovering a talent that she carried all these years without realizing it. «When I was at the dancing school, we were in this building where they had in one part dancers and the other one bands, rappers and singers», Hanan explained, «so, whenever we had a break I would go to the rappers and singers and just check them out». Interacting with the world of rap and hip hop, Hanan found her path and decided to unleash her hidden skills.
«One time some girl said do you want to take the mike and say something ? I said yes, I started rapping free styling and they were like, you have to join the school with us. And this is how it happened I said to myself you know what I am going to leave dancing and I am going to apply for the rapping school».
Hanan left dancing to become later, Nanah Dae, the only female rapper at her new school where she learnt how to MC, narrate her story and make words rime. Years later, she participated to a competition launched in the Netherlands. In January 2015 she applied to «De Grote Prijs Van Nederland» translated as the Dutch competition for upcoming artists. Suprisingly, Hanan won the show and became one of the first female MCs to take home the trophe.
When asked about the way she feels about her multicultural background, Nanah insisted that she has always been cherishing her Moroccan heritage. «I have been inspired by the Moroccan culture. It is amazing, you have Ahwash and the Reggada», she said with a smile. «I love mixing my culture with what I do because that makes me unique and nobody can take that away from me», Hanan added.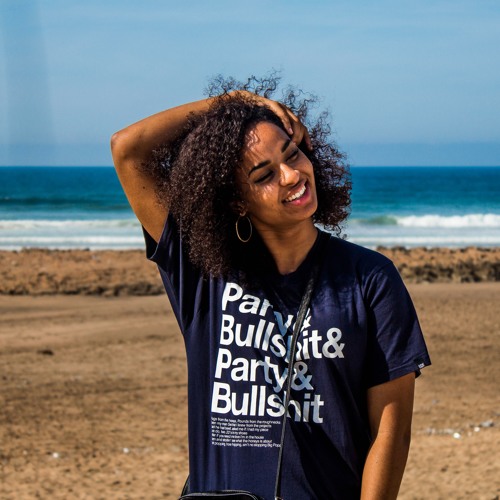 Hanan's advice to young girls
For the young rapper, it is not only about the culture but also about what she lived, her experience and childhood memory. Her advice to young girls is to stay focused and practice because that is the only talent one can really have. «Talent does not come over a night, you also need to practice», hanan stated. «You need to be honest to yourself and surround yourself with honest and true people», she said.
«I don't talk about love at all because a lot of people get inspired by music and I don't want 13-year-old girls to be thinking of that now», Hanan argues. For her these little girls are too young to be concerned with that. «I want young girls to fix other things. First before thinking of love you need to watch your school, hang out with your friends and make sure you get your education right», she concluded.
Nanah Dae, who is currently working on her first album, is one of the young artists invited to the 17th edition of L'Boulevard. She, along with others, performed yesterday in Casablanca in one of her first big concerts.