Amir Peretz, the former defense minister of Israel was part of a joint conference organized on Sunday in Rabat by the Parliament Assembly of the Mediterranean (PAM) and the World Trade Organization. The Israeli politician who was born in Morocco in 1952, was in the middle of an angry wave initiated by by a number of Moroccan MPs inside the Parliament.
Peretz was approached by Abd el Hak Hissan, a parliamentary counsel in the second chamber of the Moroccan parliament. He called him a «war criminal» saying : «You are an unwanted guest here». The incident lasted for about 15 minutes according to Peret's spokesman quoted by the Jerusalem Post. According to a different source, namely the Times of Israel, indicated in one of its articles that the «former Israeli Druze lawmaker Majalli Wahabi quickly came to Peretz's defense, noting the Zionist Union MK was born in Morocco».
«Amir Peretz is Moroccan, his mom and dad are Moroccan, he was born here (…) you have no right to attack him».
An unwanted guest for the National Working Group for Palestine
Responding to Peretz' controversial visit, the National Working Group for Palestine, a local organization that campaigns against the normalization with Israel, invited all Moroccan MPs to take part of a sit-in outside the House of Councilors. On the same day the NGO organized a sit-in to denounce the presence of Amir Peretz. Members of the organization demonstrated on Sunday in front of the Parliament in the Moroccan capital bringing together 14 associations.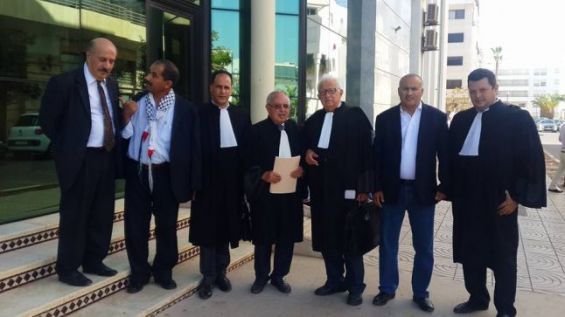 Meanwhile, a new complaint was filed on Monday (October 9th) by Moroccan lawyers against Amir Peretz. They believe that the Zionist Union MK should be arrested for committing «war crimes» against Lebanese and Palestinian civilians. For the record, three Moroccan lawyers, Abderrahim Jamai, Khalid Sefiani and Abderrahmane Benameur, filed a complaint in 2006 against Amir Peretz when he visited Morocco to meet King Mohammed VI on the 17th of February.
Responding to accusations
The Israeli lawmaker, finally responded to the controversy that surrounded his visit to Morocco. On his Facebook account, Peretz wrote «First of all, everything is fine (…) thank you for caring». In a long facebook post, he explained that he «was on an official visit to Morocco along with the former Foreign Minister». Peretz insisted that it is important to clarify things to his followers after the incident in Rabat.
«It is important to make it clear to extremists that we will never let down. We will fight against them everywhere. Meanwhile we will continue to strive for peace and we wouldn't be afraid of determining our future».
On the other hand, Peretz who was born in Bajaad, reminded his followers on Facebook that «Morocco is a unique country, where most of its citizens have lived peacefully together for centuries with Jews». «Thousands of Israelis come to here every year (…) personally I am respected here and I am well treated by high profil people», he said.
He also insisted that he will continue to visit Morocco and that he received support from most of the parliamentary representatives at the conference held in Rabat.