Thousands of Moroccans have taken the streets of Rabat on Sunday in a rally organized to denounce President Donald Trump's decision of relocating the American embassy and recognizing Jerusalem as the capital city of Israel, reports Yabiladi's journalist present on site.
As they rallied along Mohammed VI Avenue and Bab el-Had square in the Kingdom's capital, demonstrators shouted «Jerusalem, capital of Palestine» carrying banners that read the same slogan.
The march was carried out by trade unionists, activists, Islamist sympathizers and families who were there to protest against the American «It is difficult to determine how many people participated to the march, but what can be said is that hundreds of thousands were there to denounce the U.S. President's recent decision», Khalid Sefiani, member the National Action Group for Palestine told Yabiladi on Sunday.
The activists stressed that «the march was very successful and that left and right activists, and Islamists all rallied together today, sending a message to the international community and supporting the people of Palestine».
«As much as I am saddened by Trump's decision, I am happy with it at the same time, because it brought back the Palestinian cause to the surface. This is very important as Arabs and Muslims have recently become occupied with their own internal conflicts».

Sefiani said that he received «congratulations from Gaza, Ramallah and the Arab countries». He added that «the march was reassuring to the Palestinians».
A march to support the Palestinians
«In terms of the number of participants, the march was massive», Mounir Jouri, member of Al Adl wal Ihsane, a Moroccan Islamist association told Yabiladi. «The march has a clear message, the slogans chanted and the banners carried all confirm the same thing that the Palestinian cause is something that Moroccans are there to support».
He added that the Moroccan people «interacted with the Palestinian cause automatically and will continue to do so. The Moroccan people are part of this nation and should play their role in defending Jerusalem».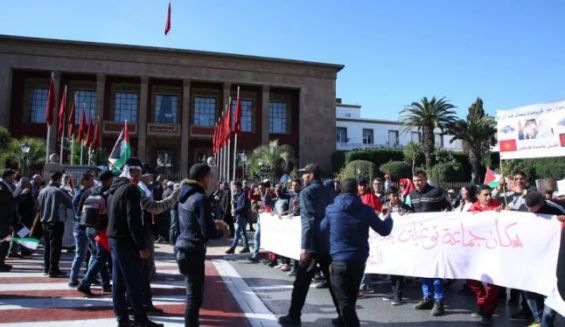 Meanwhile, the Palestinian ambassador in Rabat Jamal Al-Shobaki affirmed in a statement to MAP news agency that «the march comes to say no to the unjust American decision, yes to the independence of Jerusalem».
Al-Shobaki added that all political parties and civil society forces in Morocco «went out today to express their word». He also referred to the position expressed by King Mohammed VI as chairman of the Jerusalem Committee in his letter to the U.S. President Donald Trump and to the Secretary-General of the United Nations.