On May the 9th, the Ministry of Employment and Vocational Training issued a communiqué, reacting to an investigative story about Moroccan women working in tomato and strawberry fields in southern Spain.
In its statement, relayed by MAP news agency, the ministry replied to some Moroccan platforms that have published information revealed by the investigative paper. It warned against «the viral videos, indicating that some Moroccan female farm workers are being sexually harassed and exploited in Spanish farms».
A confusing communiqué
The ministry insisted that it is taking note of the elements revealed by the videos, in order to provide the general public with the right and necessary explanations. It also pointed out that a delegation will be sent to Spain to determine the circumstances of the alleged accusations.
However, in its communiqué the ministry of employment which sends hundreds of Moroccan women to work in strawberry fields in southern Spain, has been based on a big misunderstanding.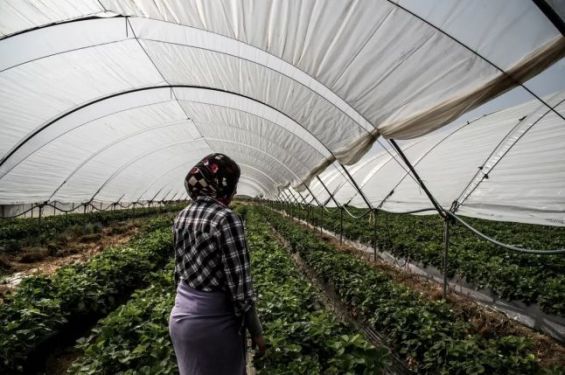 Hiba, a Moroccan worker and mother who claims being sexually assaulted by her supervisor./Ph. Buzzfeed news
The ministry wrote that «one of the women who claimed that she was sexually assaulted says she was 25 years old (in 2017), and according to her account, she must have been only 15 years old when she started working in the Spanish farms… and giving the fact that the latest selection operation was conducted in 2009, this contradicts the terms and conditions set for seasonal farm workers selected and sent by the National Agency for Employment and Skills promotion (ANAPEC)».
Confused by the communiqué referring to a woman who claimed having been raped in Spain in March 2017, Yabiladi preferred to first read the investigation relayed by several local newspapers, such as Chouf TV and French-language online newspaper H24.
Buzzfeed and Correctiv's investigation
After a thorough research, we have finally stumbled upon the investigation paper published on the 30th of April (in Germand and on the 2nd of May in English) on American Internet media company Buzzfeed. Originally written in German, the paper which investigated how women farm workers were treated in southern Spain, Souss Massa (Morocco) and Italy, was also published in English on Correctiv, a German nonprofit investigative journalism newsroom.
In an investigation parted into three long articles, journalists Pascale Muller and Stefania Prandi met dozens of women in the fields to report the abuse they are subjected to. In May 2017, the journalists met Kalima (a nickname the victim has chosen to protect herself), a Moroccan farm worker who claims having been raped in March and April 2017 by her supervisor (Abdelrahman).
Who is Kalima
«He forces women to have sex with him», said Kalima talking about her alleged rapist. According to the same article, Kalima, who works in a strawberry farm near Palos (southern Spain), has lodged a complaint against her alleged aggressor on the 3rd of May 2017. «Kalima used a rape kit, through which a gynecologist and forensic doctor determine 'sexual aggression'», Muller and Prandi wrote.
Kalima according to them was transferred to a women's shelter on the same day she went to the police and had to leave Spain in the summer of 2017. She claimed that after testifying against her supervisor he started threatening her.
During their stay in Spain, the two journalists have spoken to several women (most of them from Morocco) who said they have been harassed, raped, blackmailed and physically assaulted by their supervisors in the farms.
Karima has been assaulted in Souss-Massa
To carry out their work, the journalists packed for Morocco and most precisely for Souss Massa, a region that hosts a huge number of female farm workers. There, they have met Karima in May 2017. She is a student and a farm worker who worked during holidays to support her two brothers after her parents died in a car accident.
A agricultural worker who says she was assaulted at work./Ph. Buzzfeed news
«I worked in the greenhouses of tomatoes for three months in 2016», says Karima who revealed that her supervisor (Brahim) was exploiting her. «He tried often to harass me. He sent me to work alone, while the others were in a different place and tried to assault me», said the young girl who confirmed that she has left her job. In the article published by Buzzfeed, Karima's name was changed to Asmaa.
The misunderstanding
When trying to relate the accounts reported by the women interviewed by Pascale Muller and Stefania Prandi and the one referred to in the ministry's communiqué, Yabiladi realized that there was a big misunderstanding.
Yabiladi tried to reach the journalists who conducted the investigation and a few days later received the answer of Pascale Muller. «I think there is a big misunderstanding», argued the journalist who explained that :
«There are two women in the story, one who is called Kalima, who says she was abused in Spain, and Karima, who says she was abused in Morocco and started working when she was as young as 15».
As opposed to the version of the story relayed by the ministry's communiqué, Muller insisted that «out of these two only Kalima came to Spain as part of the seasonal workers exchange and we have documents that show that».
To put it in other words, the ministry's calculation insisting that the victim was only 15 years old when she started working, describing that as impossible and hence discrediting her account, is nearly impossible as the only agricultural worker who was 15 when she started working in farms has never left Morocco and is «Karima», not «Kalima».
«In our articles and videos we do not claim that 'Karima' was abused in Spain. In fact, we write that she claims having been abused by her superior in Morocco, region of Souss-Massa precisely», argued the journalist. «We would like to make it clear that we have spoken not only to Moroccan women who claim to have been abused in Spain, but also in the agricultural sector of Morocco. Therefore we do not see any logical error in the women's testimony or our work».
The journalist stressed that they have interviewed «Karima» and every other female worker in person and that they «have sent a statement to the Moroccan Ministry of Employment to inform them about this misunderstanding».
Yabiladi has attempted as well to reach the Ministry of Employment and Vocational Training. Speaking to Noureddine Benkhalil, the ministry's secretary general and current head of ANAPEC, Yabiladi managed to get the ministry's answer to be featured in an upcoming article.