Written by American novelist, poet, and designer Edith Wharton, «In Morocco» (1920, New York Scribner) is considered to be the first travel guide to the Kingdom. Invited by the resident general of French Morocco Hubert Lyautey, the aristocrat made a record of her trip to North Africa, delivering an account that favored the French administration.
Known in New York as a distinguished woman who befriended well-known people of her day, Edith was a member of a well positioned family that traveled extensively in Europe. In 1917 and as Edith has already established a name for herself, as a writer and a poet, she toured Morocco at the invitation of its French Resident-General at the time, Marshal Louis-Hubert Lyautey.
Her trip was later converted into a book she entitled «In Morocco» through which she described what she witnessed in French Morocco. However, Edith Wharton's account of her visit to the North African Kingdom was an exclusive opportunity for her to praise her host, the French administration and colonialism in Africa.
Favoring the French government
Literary critics suggest that Edith Wharton's In Morocco was full of praise for imperialism and Resident-General Lyautey. According to neglected books, a platform that reviews books believed to be neglected, Lyautey entitled the New Yorker «to VIP privileges, including her own car and driver and ready access to military when she needed it».
Edith, on the other hand, glorified the Resident-General tactics and policies. «The loss of Morocco would inevitably have been followed by that of the whole of French North Africa outright to Germany at a moment when what they could supply — meat and wheat — was exactly what the enemy most needed», wrote Edith Wharton defending Lyautey's choice to keep Morocco after WWI.
During her stay in Morocco, the American writer attended a series of prestigious events and was given the chance to attend celebrations chaired by Sultan Youssef ben Hassan.
«The Sultan, pausing beneath his velvet dome, waited to receive the homage of the assembled tribes. An official, riding forward, drew bridle and called out a name. Instantly there came storming across the plain a wild cavalcade of tribesmen, with rifles slung across their shoulders, pistols and cutlasses in their belts, and twists of camel's-hair bound about their turbans», she wrote describing the Allegiance ceremony.
Although her account contained passages describing life in Morocco at that time, the cities, the souks and the way people were dressed and behaved, In Morocco was also an opportunity to draw attention to Lyautey and how the Kingdom needed to be managed by the French administration.
«In every city she visits she notes the many signs of the neglect and decay of much of Morocco's cultural heritage, despite attempts at restoration by the French government», wrote neglected book insisting that in Wharton's «eyes, Morocco in 1919 was a civilization that had been in decline for centuries and only the intercession of France could prevent that from becoming irreversible».
Defending imperialism
The same analysis was shared by Moroccan-American novelist and essayist Laila Lalami who wrote on her blog referring to In Morocco. «She is full of praise for her host, General Lyautey and his government», she explained.
«The French endeavor to keep the trails 'fit for wheeled traffic,' they are 'asked to intervene' to save antiquities, and at all times they show 'respect for native habits [and] native beliefs'».
The Moroccan novelist has even went further arguing that Wharton's way of defending the French colonization can still be seen nowadays : «What strikes me about these contrasts is not that they are outmoded, but rather the opposite: the same images, the same tropes are still to be found in travel writing or reportage about Morocco today».
In a more obvious endeavor to defend the French Edith Wharton wrote : «Three years ago Christians were being massacred in the streets of Salé.... Now, thanks to the energy and the imagination of one of the greatest of colonial administrators, the country, at least in the French zone, is as safe and open as the opposite shore of Spain».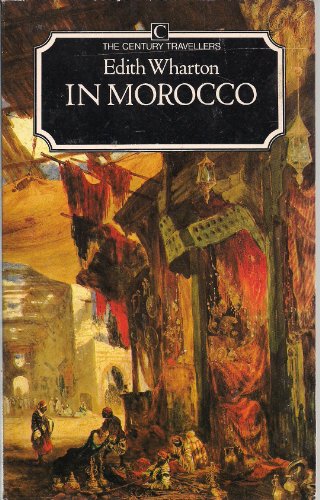 In a study entitled «Fictions of Colonial Anxiety: Edith Wharton's 'The Seed of the Faith' and 'A Bottle of Perrier'» and conducted by Charlotte Rich, Wharton is accused of adopting a «colonial discourse at the level of narration». For Rich, the novelist has fallen into generalizations about North African Arabs, siding with French imperialism.
Edith Wharton's trip to Morocco has inspired one of her short stories 'The Seed of the Faith'. The tale is about an American Baptist missionary, Willard Bent, who with his mentor has lived in Morocco for many years.