Known as Moulay Ismail's ambassador to France, Abdallah Ben Aisha led an adventurous life as a corsair during the 17th century. The Salé-native was sent by the Alaouite Sultan to Paris to negotiate a Treaty with the French. During his visit Ben Aisha met Louis XIV and English deposed King James II.
Way before being part of the Moroccan Sultanate's diplomatic corps, Abdallah Ben Aisha was known to Salé's inhabitants as a powerful corsair. His successful maritime campaigns had made of him a respected man. Historical accounts suggest that his very first raid as a pirate was recorded in 1671.
Salé's corsair
In her book «Salé's Corsairs, 1666-1727» (Salé et ses corsairs, 1666-1727, Publication Univ Roven Harve, 2008), historian Leila Mezian says Ben Aisha was named Admiral of the coastal city in 1682.
Mezian referred to the corsair's prosperous raids in the Mediterranean Sea and Atlantic Ocean that were marked by his capture in England.
Abdallah Ben Aisha in France./Ph. Wikipedia
«Two years later (after becoming Salé's Admiral), he was captured by the English and was released a few months later», wrote Mezian, insisting that on the 15th of November 1686 Ben Aisha resumed his activities as a corsair.
In a different account, Nabil Matar wrote in his book «Turks, Moors and Englishmen in the Age of Discovery» (Columbia University Press, 2012) that Abdallah Ben Aisha spent three years in England as a slave. «[He] was released by King Charles without ransom upon the intercession of James II», reported Matar.
Moulay Ismail's ambassador
Despite slight differences in Ben Aisha's story, all sources agree that after his long and dangerous journey as a pirate, he was named Morocco's ambassador to France by Moulay Ismail in 1698.
«Sultan Moulay Ismail had chosen Abdallah Ben Aisha, this powerful and wealthy man, to lead a diplomatic mission to France», said Leila Mezian.
Indeed, on the 11th of November 1698, Ben Aisha left Salé for Brest, a city and harbor in Brittany, France. «Accompanied by his secretary/ scribe Ahmad Sousan and his Lieutenant Mohammad al-Thughiry, along with sixteen other members of the Moroccan delegation», Ben Aisha went to negotiate a treaty with France, recalled Nabil Matar in a different book entitled «In the Lands of the Christians : Arabic Travel Writing in the 17th Century», (Routledge, 2013).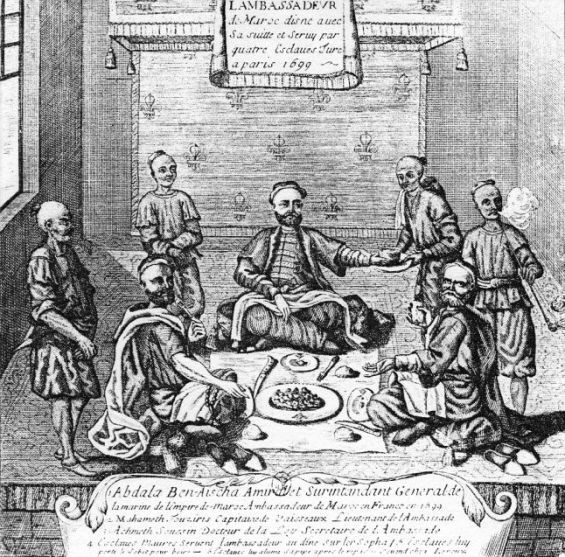 «Ben Aisha remained in Brest for two months, until discussions of his status- as to whether he was an envoy or an ambassador were completed», wrote Matar insisting that the delay was humiliating to the Moroccan ambassador.
Ben Aisha stayed in Brest until the 12th of January 1699. «He was given permission by the French King to begin his journey in Paris», narrates the same book. On the 5th of February, the Moroccan diplomat arrived in France's capital after travelling through Rennes, Nantes, Angers, Tours and the Loire Valley.
Historical reports suggest Ben Aisha met Louis XIV on the 16th of February to discuss the signing of a treaty between France and the Moroccan Sultanate. Although, Ben Aisha was warmly welcomed by the French, the agreement has never been ratified and the two parties failed to agree.
However, Ben Aisha's visit «attracted much media attention from the French newspapers of the period, especially La Mercure Galant and La Gazette de France», said Matar.
«The visit provided Aisha and his retinue with the opportunity to see the grandeur and novelty of France and to mix with royalty and nobility».
In France, Ben Aisha seized the opportunity to meet the man who saved his life when he was captured in England, namely James II who was exiled in France after being deposed.
After spending three months in Paris, Ben Aisha arrived in Brest in May and sailed for Salé in June. According to Liela Meziane, the ambassador carried some diplomatic missions in Morocco before he died in 1712.