American President Bill Clinton and Russia's Boris Yeltsin were particularly closer than what the world thought. The nature of their relationship was highlighted through declassified memos, made public in July.
The memos revealed Bill and Yeltsin's collaboration on both a personal level and a bilateral strategic level. Through a series of phone conversations, the two leaders spoke about Russia's 1996 elections, the Chechnya military invasion and King Hassan II.
In fact, in a phone conversation that dates back to the 7th of May, 1996, Yeltsin and Clinton discussed the «Comprehensive Nuclear-Test-Ban Treaty (CTBT), Chechnya, economics, Conventional Armed Forces in Europe (CFE) and Russian election», stressed the document released by the US National Security Council.
The Chechnya war
But by the end of the conversation President Clinton informed his Russian counterpart about talks he had with the King of Morocco. «As promised, I sent you a letter on Chechnya after I spoke with King Hassan», said the American head of state.
«He said he would be in direct contact with you», added Bill Clinton. However, the Democrat's letter on Chechnya did not make its way to the Russian President, who complained saying : «I have not yet seen the letter from you. I don't know why the letter has taken so long to get to Moscow».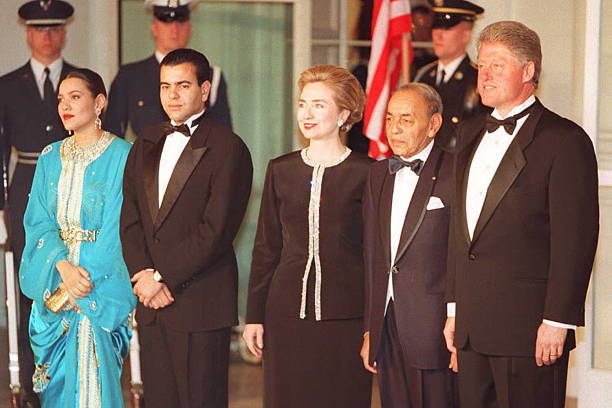 Responding to Boris Yeltsin, Clinton promised to check with his staff to figure that out, adding that he «sent it (letter) to [him] on April 27 right after [he] spoke with King Hassan».
«Hassan said he would do whatever he could to help end the fighting and is interested in helping you», explained Clinton, referring to the situation in Russia that has been involved in the Chechnya war for two years before the signing of a peace treaty in December 1996.
Clinton was committed to provide support for his Russian counterpart and he relied on the Moroccan sovereign to help him with that. At the time, Yeltsin was planning to fly to Chechnya and have the three conflicted parties together.
«When I say all three parties, the troika, I mean the Chechen government, the field commanders and the Federal government, that is, the Chernomyrdin state commission», replied Yeltsin, adding that «Hassan might be of great help». He then thanked his American counterpart for his «help with Hassan II».
King Hassan II : An intermediary
The Moroccan King was indeed, ready to be a mediator for the Chechnya conflict. The information was revealed back on the 21st of April, 1996 by an American official.
In an article that dates back to the 22nd of April, 1996, French newspaper Les Echos reported that «US President Bill Clinton will ask Morocco's King Hassan II to mediate negotiations in Chechnya at the request of his Russian counterpart Boris Yeltsin», which Morocco agreed on.
The initiative, requested by Yeltsin and then fulfilled by Clinton, was also mentioned by the Washington Post in an April 1996 article. The American newspaper wrote that «Clinton said Yeltsin asked him for help with Chechnya» and that «a White House official said this included a request that Clinton call King Hassan II of Morocco. Yeltsin said Hassan has agreed to be an intermediary».
Relying on King Hassan II reveals a part of the Moroccan-American diplomatic relations. Bill Clinton, had praised in the past, the Moroccan sovereign, stating that he has counted on his diplomatic services in many occasions.
During King Hassan II's visit to Washington in March 1995, Bill Clinton said in a speech that the sovereign «helped to arrange President Sadat's historic trip to Jerusalem, undertook a direct dialog with Israel at a time when doing so was difficult (and that) his quiet diplomacy facilitated talks between other Arab leaders and Israel».