Dina Bousselham is a Tangier native born in 1990. Since an early age she joined the Spanish school of Tangier «Ramon y Cajal», before leaving the Kingdom for Spain where her father lived for a long time.
Mastering the language and having a Spanish baccalaureate opened doors for the Moroccan young girl and allowed her to study at the prestigious university of Madrid. After settling down in the city, Dina studied political sciences and lived in Paris for one year, for a Master's degree in Latin American and Caribbean studies at the Institute of Higher Studies of Latin America in Paris.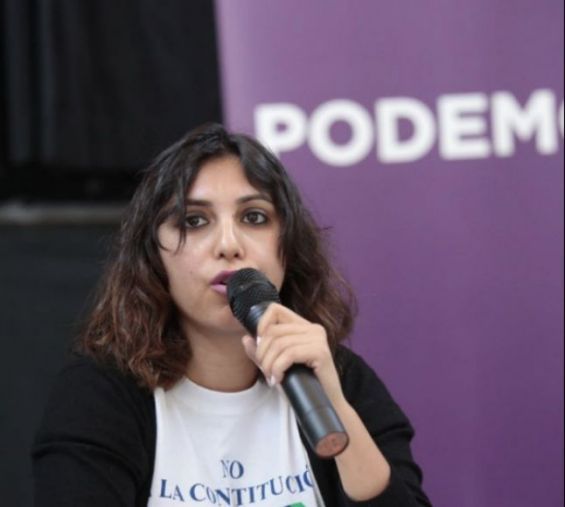 Appointed by Pablo Iglesias
Back to Madrid, she secured her first job, working in a firm specialized in online marketing. In less than a year, the young activist was contacted by her former lecturer, Pablo Iglesias, the secretary-general of the Spanish political party Podemos.
«Pablo Iglesias contacted me because we shared the same ideas and we came from the same world of activism», she told Yabiladi.
Indeed, as soon as she entered college, the young woman joined the «Juventud Sin Futuro» (Youth Without Future), an initiative launched by several Madrid university groups to denounce the economic crisis of 2008.
Dina became later a parliamentary assistant for Pablo Iglesias, when he was an MEP. The experience was so enriching to her and in 2015, Pablo Iglesias ran for the elections and she became the secretary of communication for the political party.
The ambitious girl returned to university to work on her PhD on the Riffian community in Catalonia. «Studies, politics and work (have) pushed her to stop one of my hobbies, which was football», she explained to yabiladi.
«I played football in the streets ... the evenings and traditional festivals marked my childhood and I miss that terribly».
Denouncing injustice
Today Dina Bousselham has bigger dreams. She wants to run for the Spanish local elections in Madrid. But her dream can not come true if she doesn't get the Spanish citizenship by May.
«We come to work here ... and even 15 years later we are not given the opportunity to vote, or to make our voices heard for issues that bother us.»
Indeed, while the young woman has been living in Spain for more than a decade (a primordial criterion for obtaining citizenship), she explains that she still has not been able to obtain her dual citizenship, because, the procedure is long; it can take up to 5 years.