«I need to set goals, and especially to exceed in reaching them». Tarek Elmarhri, 39, has a job that some people find hard to explain : he is a trader. The Ambérieu-en-Bugey native, a son to Moroccan parents from Oued Zem, created in 2013 his trading company, Krechendo Trading.
Based in Paris, his company has 23 independent traders. It works with companies, fund managers, banks, individuals or traders «who want to refine their credit strategy», Tarek Elmarhri explains.
«I knew there were traders who had the option of no longer working for a bank because they had earned their bonus, and wanted to have a professional work infrastructure. So I launched the first trading room for independent traders with the possibility, at the same time, to advise individuals, fund managers and companies on the implementation of trading strategies and how to manage risk», he further explained.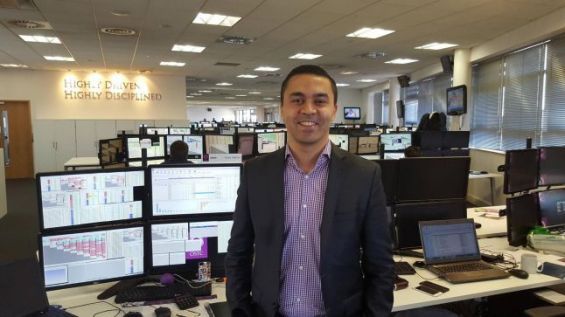 He added : «We also go to big companies to train their management on the hedging of currencies, forex and commodities». Tarek Elmarhri is also a consultant for several media companies, especially «LCI, TF1, BFM TV, M6, France 2 or Canal +».
He also served as technical advisor for Christophe Barratier's film «L'Outsider» (2016), which reviews the case of Jérôme Kerviel, the trader was accused in 2008 of endangering Société Générale due to reckless risk-taking, which has made him an infamous symbol of the excesses of the financial sector. «We coached the actors, including François-Xavier Demaison, for four weeks by practicing dialogues», says Tarek Elmarhri.
A Casablanca trading room in the launching
A graduate of a master's degree in financial trading from the Free School of Applied Commercial Sciences (ESLSCA), he worked for Marex Spectron in London, a trading agency specialized in derivatives, then in Amsterdam and New York, at the Millennium Management Group, among others. He did not lose the habit of traveling a lot : with his company, he travels to Belgium, the United Arab Emirates, the UK and Morocco.
In Casablanca, the economic heart of the Kingdom, he hopes to set up a trading agency in partnership with Casablanca Finance City «in the second half of 2019».
«Many Moroccans come to Paris to train in trading and go back to Morocco. I receive a lot of requests. What is currently happening in Morocco in terms of trading can be similar to what happened in France in the 90s; the environment was really liberalized».
Performance bonus
To him, the scientific profile of Moroccan students «is a real asset in this area». In the trading agencies of European banks, there are a lot of Moroccans and they are very competent.
Passionate about trading, Tarek Elmarhri hopes to always go beyond his targets. The former track and field champion, a sport he has practiced for twelve years, says he needs constant «challenges». From sprints to marathons, the French-Moroccan trader has enough stamina to take up the challenges.