In 1969, Sidi Ifni was barely decolonized from the Spanish presence. A year later, Rachid Hanbali was born in this city, to an architect father. Since elementary school, he had always been passionate about drawing, certainly under the influence of his father, with whom he spent a lot of time, especially in his office among drawing sheets and pencils. At school, Rachid quickly became a misunderstood artist, devoting himself to drawing even during class, which did not help with his teachers.
Once at high school, he stumbles upon the Higher School of Fine Arts in Tetouan. By chance, he met a former student of that school who encouraged him to follow his passion after seeing his drawings. «The school accepted applications from the common core, so I applied and was accepted, contrary to my father who wanted me to follow the example of my two brothers by studying math, or to do like him by opting for architecture», the artist says.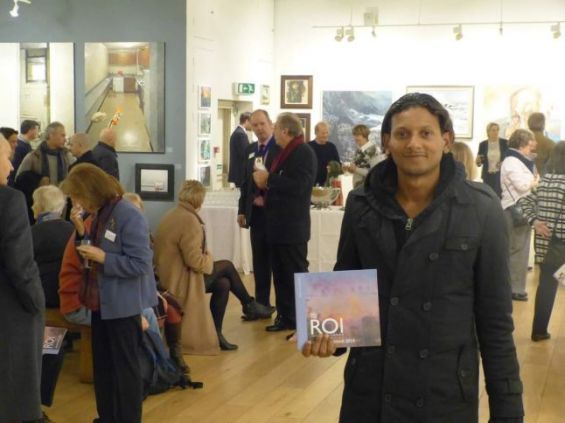 «During my studies there, my father often told me that I was on vacation. He sent me little money and my studies were done in great financial constraints», he recalls. Three years later, Rachid Hanbali joined the Faculty of Fine Arts in Granada, with the same disapproval of his father.
«With the help of my mother, it took a while to convince him to sign the guarantor documents so that I could go to Spain, but I was determined to get into painting or do nothing. The beginnings were therefore difficult, I had little financial help from my father and the studies required a lot of money because you had to buy equipment».
A revelation in Granada
To overcome his ambitions, Rachid Hanbali had to work while studying. He tells Yabiladi he has been through all kinds of trades, «from masonry to waiting tables, through the dishwashing». It is towards the end of his university years that the doors of the professional world of painting will open up for him, when he participated to a collective exhibition in the presence of Portuguese poet, writer and playwright José Saramago, Nobel Prize of Literature and great gallerist in Granada.
«The latter noticed me and offered me a contract to exhibit at home paintings with Morocco as a theme», the painter recalls, while recognizing the great role the gallerist had in putting him under the spotlights.
In his paintings, Rachid Hanbali has a particular taste for figurative art, without confining himself to its rigid academic dimension. «I learned the basics, then I took up a style by giving my paintings a personal touch», he says. «What matters in painting and especially in the figurative style is to persevere and refine this unique touch for each of us, with practice. Indeed, his experience has taught him that figuration is «an inexhaustible ocean of inspiration, which allows one to evolve and free oneself from a fixed vision of artistic schools».
Since then, Rachid Hanbali has been working a lot on the Moroccan heritage by showing ancestral landscapes, while also avoiding the cliché traps. To him, «we must be in the process of evolution and continuous reflection, in order to learn not to be a slave to certain images, photos, colors that are overused».
Thus, the Morocco theme in the paintings of Rachid Hanbali does not stem from the idea of «selling Moroccan folklore to Europe to make yourself a name immediately». The artist sees it more as a way to recall these images that have rocked his childhood and his experience by working on a painting technique and a singular pictorial touch. «Art critics and painting specialists know how to differentiate canvases made with the soul from those made for business», he says.
The rewards for hard work
Rachid Hanbali encourages young Moroccan artists to open themselves to other painting disciplines than those where they have evolved academically, so as not to be trapped in their field of training and better develop their styles. «The art of figuration in Morocco has remained too closely related to academics, while the technique of figurative drawing is inspired by everyone and its impression and spontaneous interpretation, with intelligence», he laments.
«I know young Moroccan artists who could have given a lot for the figurative, but unfortunately, have gotten overnight into a new style or even another area, while art and especially painting is a long process where you have to have a lot of patience to shape up your brush stroke».
Rachid Hanbali's stroke has been going well over time. In 2009, he won the Creativity Award after attending the Beijing International Modern Art Fair. He also exhibited in the United Kingdom, the United States, several cities in Spain and other European countries, where he won particular prizes and special selections.
For five years now, he has been collaborating with the prestigious Mall Galleries UK in London, where he became, unexpectedly even for him, the first Arab and Moroccan to exhibit since the creation of this historic institution in the 1800s.
«In the beginning, Mall Galleries appealed to foreign painters. My wife encouraged me to contribute with a canvas. Once there, I was impressed by the quality of the work of the exhibiting artists and I told myself that my works did not stand a chance. But my work was chosen along that of 24 other artists».
Subsequently, his painting project «Conversation» was selected at the first prize of the Mall Galleries, which got his career a second breath. In addition, Rachid Hanbali exhibited in his native country with the help of his Morocco-born local manager, Christoph Ballet, who organized exhibitions in Fes and Mohammedia.
But all this glory does not however make him lose track over his objectives to continue to exhibit and improve his style that would include both research and creativity. «All this recognition is the result of hard work that pays off, but this does not mean one must get remain in their comfort zone; just like an athlete who bears the colors of their country to the international stage and who must constantly work to improve or at least maintain their performance», he says.
«We have had Said Aouita and Hicham El Guerrouj setting the example for hard work and perseverance in international sport. As Moroccan painters abroad, we owe it to ourselves to embody these values of working with young people in our artistic fields», the artist concludes.