Saad El Guerrab is a Casablanca-native musician who, with the help of his family, was introduced to the world of Moroccan music, such as Gnaoua and the Ghiwan music, as well as jazz. At age ten, he accompanied his father on an experience that had marked his career. Indeed, the Moroccan musician combined his job as an engineer and his passion for musical instruments to become the artist he is now.
«My father has always been a big fan of my music», Saad told Yabiladi. «He was a pharmacist, but the atmosphere he made at home helped shape my musical preferences, being surrounded by jazz, Latin and African music», said the young musician.
Thanks to this musical melting pot, the musician managed to build over the years an eclectic universe. He first learned how to play the piano through classical teaching, then percussion, guitar, bass and keyboard by himself.
A passion for science and for music
«My parents were aware that I liked science and music equally, so they respected my choice to be on both fronts at once», Saad proudly declared.
«My mother supported my thirst for knowledge, but I enjoyed in parallel the Essaouira festival since its first edition and I played for several bands», Saad recalled, adding that he was a huge fan of Moroccan violinist Saad El Bouamri, Prince and Ravi Shankar.
«I was able to play in Morocco where I was in contact with Gnaoua and Arab music. I went on stage and I learned a lot in terms of improvisation during live concerts and facing the audience. During my studies in France, I spent several hours in the music rooms, which had a great impact on the rest of my career».
Saad said that these experiences helped shape his career : «It brought me a great spiritual dimension in making music. Even today, this Moroccan musical anchor helps me a lot to convey emotions when I'm on stage: it's the best school».
After graduating high-school, he decided to go on preparatory classes in France and then an engineering school, where he was fascinated with acoustics and sound. Basically, he appreciated «everything [he] was asked to study», he said.
The musician then specialized in innovation management, joining a consulting firm and a large industrial firm. During his ten years in Paris, he rubbed shoulders with jam artists with whom he became friends. He played music with some of them on several stages, including the prestigious Trianon Hall. «It was a pivotal time when playing with great instrumentalists pushed me to perfect myself», he said. Saad ended up collaborating with several musical bands.
Discovering music in Brussels
At work, Saad El Guerrab has been offered a new position in Brussels. There, he discovered the Brussels electronic marathon festival, which introduced him to local artists. He got to know the Brussels' musical scene, which allowed him to work on his solo project, Saad Keys. He explains that it is based on three pillars : world music, groove-funk and electronic music.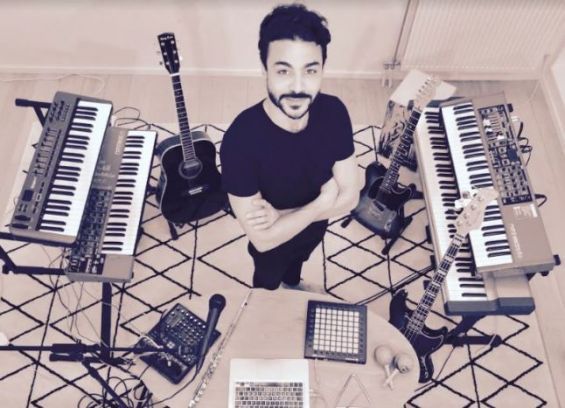 «I profited from my business trips, especially in the United States to discover musical cities. Having been a salsa teacher in Cuba, I was able to discover various musical worlds, I was then able to play in Tokyo», he told Yabiladi, explaining that these rich and different universes contributed to the construction of his musical identity.
«Traveling reminded me of the fact that music is a universal language», he said. For a year now, the musician has taken a retreat to refocus entirely on his project, on which he is currently working between Morocco and Europe. Instead of producing an album, Saad does not want to rush into this experience and prefers to take the time to make new artistic encounters that he can include in Saad Keys.