These scribbles, as he likes to call them, which are playful and sometimes serious have gained him fame on social media and among the community of cartoonists. He is Rachid Sguini, aka Rakidd, a French-Moroccan cartoonist that produces illustrated stories.
Born in Puy-en-Velay to a wide family, he started drawing at a very young age. «I started drawing when I was four. I never wanted to do anything else other that drawing, it really was the only goal of my life», he told Yabiladi.
Rachid was a lucky kid growing up as his family accepted his passion. His talent was quickly recognized by his family and friends who at the time «liked what he was doing», he recalled.
One of the themes he liked to address was how others looked at him. At school people around him tried to make him consider other careers such as sales because he was good at approaching others, which he did not approve of. These thoughts and prejudices followed him later, being told that being an artist was not a real job.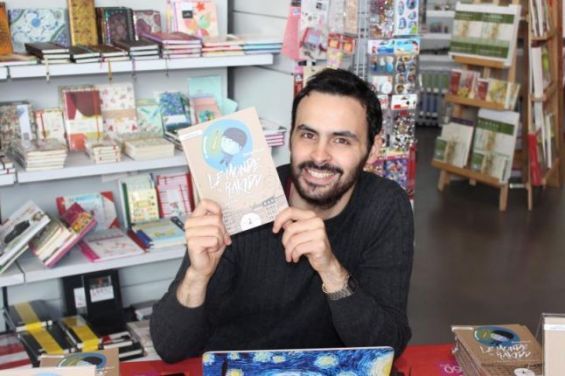 «Usually when I meet these people who think this way, Arabs or Muslims, they tell me that drawing is not for us. It's also because they are not used to seeing someone who wanted to do this for a living. But the most important thing is that the people I was the closest to have never judged me».
Encouraged by his family, Rachid flew to Lyon where he joined an art school after he graduated high school. «At this age my love for drawing flourished, I was surrounded by people who shared the same passion as me. We had similar goals, which pushed us to work hard», he recalled.
Drawing to assert oneself, inform and denounce
With a degree in hand, he debuted his career as a graphic designer and launched, at the same time, his website «Les gribouillages de Rakidd» (Rakidd's scribbles). Thanks to this platform he managed to find a job as an editor and copywriter. Several TV channels were interested in his work, including Canal +, which used one of his drawings. «That is how I started to work for TV channels», he said.
His nickname «Rakidd» gained fame in the media sector, allowing him to release two books. The first was «Le monde de Rakidd, de 2001 à nos jours» (Rakidd's universe, from 2001 to today), illustrating the 35 major events in the world from his point of view, and the second was «Les gribouillages de Rakidd ou comment je suis devenu (presque) moi» (Rakidd's scribbles or how I have become (almost) me), a book in which he speaks about himself and his Moroccan origins.
Indeed, Morocco has the dearest place in his heart. «My drawings often speak about Morocco and on my page many people see this childhood nostalgia and memories in my work», he said.
«When I was little I saw Morocco as a holiday destination, now Morocco has really become a second country. It must be said that there is a difference between our generation and that of our parents. While visiting the country only once a year, our generation - thanks in particular to the very affordable tickets - can reconnect with Morocco more frequently».
His second country is a source of inspiration to him. Even his serious topics are often related to Morocco. «I wanted to write about the boycott because I was interested in the topic. But not living in the country made it hard. It is a bit of what crosses my mind every time», he explained. However, as soon as the subject gets «bigger and [he] feels that his voice can be useful" he takes his pen.
The French-Moroccan cartoonist sees that Moroccan cartoonists have a promising future, including comic artists such as El Bellaoui Mohammed, aka Rebel Spirit, and Zainab Fasiki. «It is crazy that now I see these Moroccan artists doing what I wanted to do 20 years ago», he said, adding that «the more the art scene develops the better the country is».
Now, the designer says he is more focused on writing, although he is «not thinking of abandoning drawing». «Writing has something very interesting in it», he said, adding that his fans will soon be able to dive into two of his new books.