The Al Quaraouiyine University, founded by Fatima al-Fihriya in 859 during the reign of the fifth Idrisid ruler Yahya Ibn Muhammad, was not a higher educational institution that taught religious sciences only. It was rather a haven for different and multiple majors.
According to the 364th issue of the monthly magazine «Daaouat Al Haq», published by the Ministry of Habous and Islamic Affairs, education at the university concentrated on a varied curriculum that included, mathematics, engineering, astrology and natural science.
The Guiness World Records referred to Al Quaraouiyine as the «oldest existing, and continually operating educational institution in the world. The university was «founded in 859 AD in Fes, Morocco», years before the «University of Bologna, Italy, was founded in 1088, the oldest one in Europe», wrote the reference book.
Several years after its construction, Al Quaraouiyine University became a leading educational institution and a must-attend school that attracted disciples from Morocco, Al Andalus and the Middle East.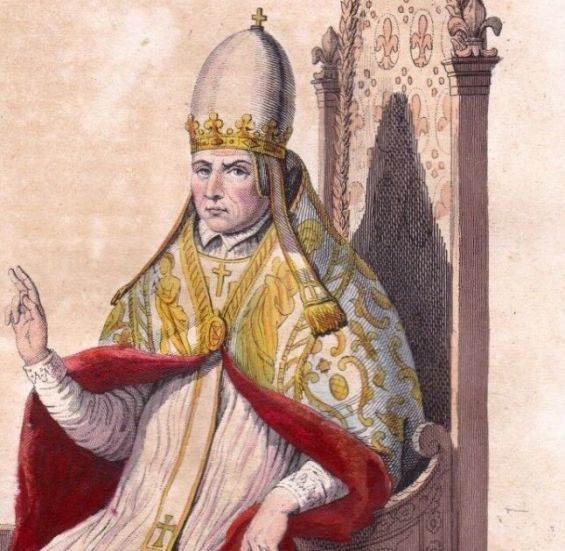 Pope Sylvester II. / Ph. DR
The institution was turned into a «forum, where scholars meet to interact and write and a higher institution on which the state depended for the training of scholars and judges who played a major role in the intellectual and political scene in Morocco and elsewhere», Daaouat Al Haq recalled.
The influence that the university had at the time was not limited to Morocco and neighboring countries but reached Europe, during the Middle Ages. Indeed, according to the book «Nisaa Ala Al Mafariq» by Palestinian-Jordanian writer and journalist Laila Al-Atrash, several distinguished researchers, including French philosopher, mathematician and mechanic Gervert d'Aurillac, who is known as Pope Sylvester II, attended Al Quarawiyine University.
An Al Quaraouiyine student and the first French Pope
By the end of the 10th century, Muslims were among the most developed nations and civilizations, especially in Al Andalus. Knowledge seekers, used to travel to Fes to study at the school, coming from «several countries and continents, especially from Europe», Daaouat Al Haq reported in its 293rd issue. According to history accounts, scientists and Orientalists, including non-Muslim scholars, were keen to attend the educational institution.
The same source spoke of Gerbert d'Aurillac, describing the French prolific scholar and teacher as a student who «was very interested in the history of Europe». Daaouat Al Haq added that «studying Islamic jurisprudence (Fiqh) helped him develop Christian jurisprudence and influenced the European mentality and its laws, systems, and customs».
To Abdel Rahman Badawi, an Egyptian professor, Pope Sylvester II, was born in 930 in Aurillac, central France. In his encyclopedia «L'Encyclopédie Orientaliste», Badawi wrote that the French Pope grew up in Saint-Géraud d'Aurillac abbaye, before studying Islamic science in Spain. «He studied engineering, mechanics, astronomy, and other sciences known to Arabs at the time», he added.
On April 2, 999, Gerbert d'Aurillas was named a Pope, becoming the first French national to assume this position. In his book «Church History», Andrew Miller stated that Pope Sylvester II was established a «link between the wisdom of Arabs and the ignorance of Romans». «He studied in Islamic schools (…) where he learned useful knowledge and went to Rome to teach people», he added. As soon as he was named a Pope, Sylvester II tried to rebel against the authority of the Church and reform it.
Pope Sylvester and the Crusades
Pope Sylvester is reported to have tried to take advantage of the studies he had in Andalusia and Morocco to seize the city of Jerusalem. Some historians believe that he was the one behind the idea of Crusades.
According to the book «Al Rouaya wal Ahlam Al Moqaddassa» by Imam Mohamed Hamoudi, there is a document, entitled «Who is Jerusalem» and written during the Middle Ages, that contains the idea of the Crusades. This document was found in Pope Sylvester II's library.
Al Jazeera reports that long before the Crusades (1095-1291), Pope Sylvester II considered Jerusalem an «occupied» land by Muslims and called on the West to «help» seize it back. His call resulted in a failed armed campaign in 1001.
Sylvester II remained in office for four years before dying on May 12, 1003. The Islamic Center for Strategic Studies reports that shortly after his death he was linked to a strange legend. Reports suggest that he had a pact with a female demon called Meridiana and he made a brazen head that would answer his questions with «yes» or «no».