To Nasser Bouchiba, China was a childhood dream that came true in 1995. That year, he moved to China to first complete studies before becoming a university professor passing the knowledge he accumulated onto new generations of Chinese and foreign students in the Eastern country.
A dream come true, indeed: «as a child, I used to practice martial arts in the central club in Rabat and I dreamed of going to China», he confided to Yabiladi.
Born in 1976 in Rabat, Nasser Bouchiba holds a bachelor's degree in «Chinese commerce» from Sun Yat-sen University based in Canton, in the province of Guangdong. He also holds a master's degree in business management, specializing in human resources, in addition to a doctorate in political science, specializing in Chinese foreign investment and development models, awarded by the same university.
Although he had completed his entire higher education in China, Nasser Bouchiba had never imagined settling there. As a matter of fact, the academic was thinking of returning to Morocco after five or six years. He believes however, that the new environment he was evolving in had an important role in determining his future: «life in China opened my eyes to a new reality», he explained.
Settling down was no easy task, however. «The China of today is not the China of 1995 and since the early days, especially in terms of food, it was not easy for me», he said. The language barrier was also an obstacle as the Moroccan businessman confides he initially found Mandarin «very difficult to learn».
«The Chinese language consists of 40,000 symbols, but the symbols currently in use range from 12,000 to 15,000. To study it, you need about 8,000 symbols. I still learn it every day, but it is the key to adaptation and to discovering the opportunities and the culture of this country which has been evolving for 5,000 years».
Yet another difficulty for the then-student was a financial one: combining studies and working at the same time was a challenge for the Moroccan man who was faced with financial hardship initially.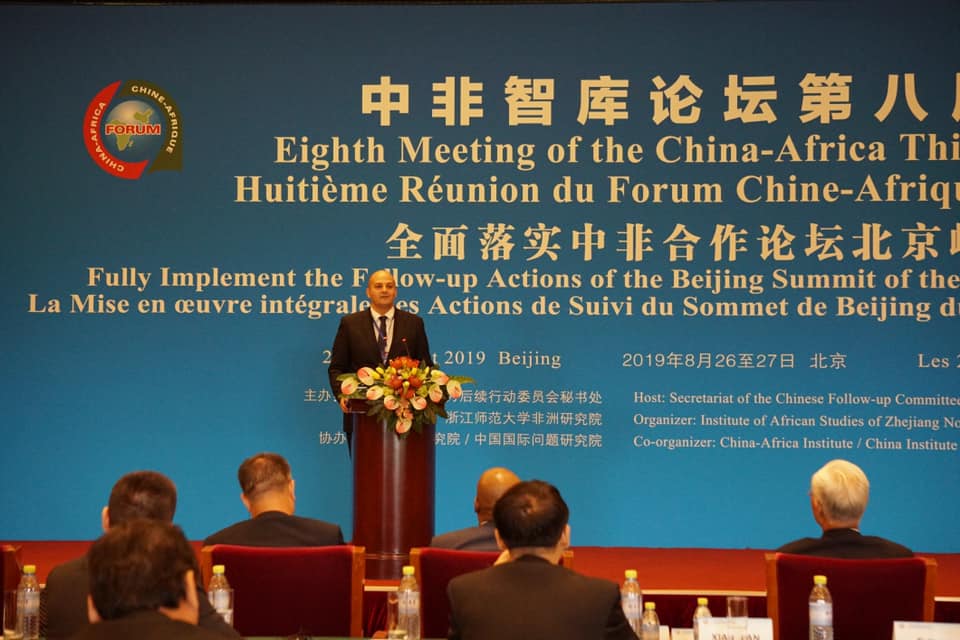 Teaching in Mandarin
In 2009, Nasser Bouchiba returned to Sun Yat-sen University, not as a student this time, but as a university professor. Since then, he teaches «entrepreneurship based on the exploration of opportunities», a subject he has already written an eponymous book about, and in which he presented a study of 300 cases of young Chinese entrepreneurs. The book is set to be translated into Arabic and other languages soon.
On September 26, a presentation ceremony of his latest book entitled «History of Moroccan-Chinese relations 1958-2018» will also be organized at the Beijing Book Fair.
This book is considered to be the result of a research he started in 2014, in which the Moroccan teacher analyzed Moroccan-Chinese relations in political, economic and cultural terms, and also included a complementary analysis on the Silk Road, Morocco's role in it, and the prospects for cooperation between the two countries.
Nasser Bouchiba describes himself as an «independent researcher», which would give him «great independence in the choice of working themes» since he finances his own research, by focusing on relations between Africa and China as well as poverty alleviation.
His ambition also led him to venture into the business world. In 2004, this Rabat-native created a company specializing in consulting, which operates with international companies in China. But only four years after its inception, the company went out of business.
The first experience was not the last one though: six years later, Nasser Bouchiba created an investment company in the city of Guangzhou, specializing in the provision of investments and the evaluation of Chinese investments in African countries such as Morocco.
«In Morocco, we made the first investment in seawater desalination, and we have another investment in the tourism sector. We are studying the areas that African countries need and we are orienting investments on that basis».
The Moroccan businessman is indeed an expert in the matter. In his doctoral thesis, Nasser Bouchiba conducted a comparative study between Chinese and French aid to Morocco.
Ibn Battuta and the Silk Road
In the past, the Moroccan academic had the idea of creating an association for African-Chinese cooperation. The project was finally launched in 2017 and aims to «crystallize an African vision of African-Chinese cooperation». Moreover, two years later, Nasser Bouchiba represented Morocco at the Sino-African Summit of Research Centers and gave a presentation on the topic.
The Moroccan researcher also had the honor of meeting King Mohammed VI in Beijing in 2016, and presented to the Sovereign the Sino-Moroccan partnership agreements signed during his official visit.
During his years in China, the Moroccan researcher acquired a great deal of experience, living through the great reforms launched by the Far East country, which propelled it to world economic power status.
«I have witnessed the most important 20 years of modern Chinese history, and by virtue of my position as a university professor, and through my participation in Chinese investment projects in Africa, I have reviewed and participated in the Chinese development model. The conclusion is that the country's development began mainly with scientific research and academia».
Currently in Morocco, the professor says he is waiting for the epidemiological situation due to the pandemic to improve before returning to China and supervising a new cultural project. «I have to supervise a series on the Moroccan traveler Ibn Battuta with Moroccan director Souheil Ben Barka», he explained.
According to the university lecturer, the scenario of this 8-episode long series was already completed. The work is set to deal with «the life of Ibn Battuta when he was in China». «The Moroccan traveler will make a flashback to remember his life in Morocco and Al-Andalus», concluded the multicultural professor who builds bridges between Morocco and China.